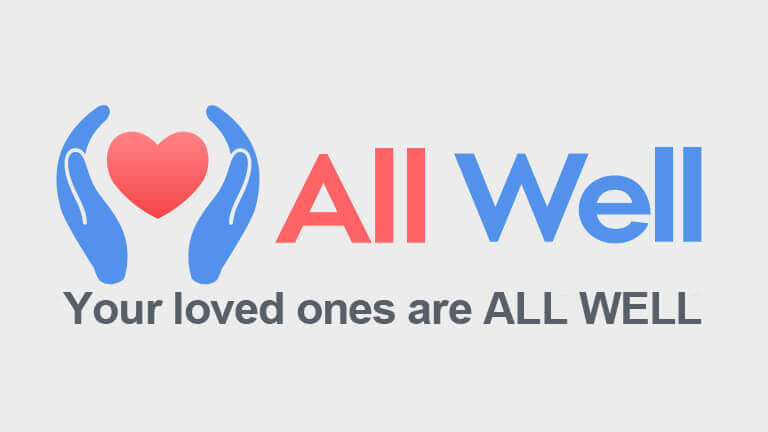 Being far apart can be difficult. Know that your loved ones are safe with All Well App. 
All Well is a wellness mobile app that helps monitor the activities of seniors or elderly with healthcare needs. AllWell data-powered solution gives you real-time information on the activity and engagement of the seniors in your life. All Well app lets you access data on when the user (phone) was first used or moved; activity levels by the hour, every few hours, or for the entire day. 
What All Well app provides info on:
An hour-by-hour breakdown of their

important health and wellness information

Emotional wellbeing

Daily first and last usage of their phone

Number of steps taken by the user

Walking/running distance

Amount of calories spent

Daily average of phone usage time
The app provides information for a day, week and month through charts. This makes it easier for the user to compare and get a status check on the health status of their loved ones. The app is also easy-to-use for the elderly. All Well app requires seniors (elderly) and caregivers (family members) to set up accounts. 
All Well uses phone and phone motions.
The app takes care of the privacy aspect by not sharing information about the activity seniors or elderly are involved in. It collects, shares and summarizes the data about calories spent, steps taken, heart rate and several other vital details and sends it to the caregiver. All well app records data every hour during the day. For free plans data is reported on a daily basis. 
Users can use the app for free. As a part of our free plan loved ones and caregivers can access much of the basic information for free. Additional subscription plans provide access to additional data, charts, graphs and more features.
The app provides an easy solution to monitor the emotional and physical well-being of your loved one for an affordable price. Users can upgrade to additional features  by upgrading the plan. Select the All Well upgrade plan level you like and pay just one monthly price for both the caregiver and the monitored user.
All Well app is available for Apple® iOS® and Android. Our app works with most of the latest devices including iPhone, Samsung, Google Pixel, and more. Soon you will also be able to see the reports on web browsers.
Please visit https://AllWellApp.com/ for more information on All Well, including screenshots and pricing of the app. If you would like further information on All Well or you would like to schedule an interview.  

AllWell 
Your loved ones are all Well